Skip to Content
Pumpkintown Is Now Open September 15th, through October 31st


Our garden center transforms into a sea of mums, pumpkins, cornstalks, and gourds. We have everything you need to decorate your home for the fall season.
We are looking for a daytime operator 830-400pm for Pumpkintown season. Pumpkintown staff is great for high school/college students or anyone looking to make some extra money before the upcoming holiday season!!
You may email to masonfarms@masonfarms.com or drop off at any location. Thank you!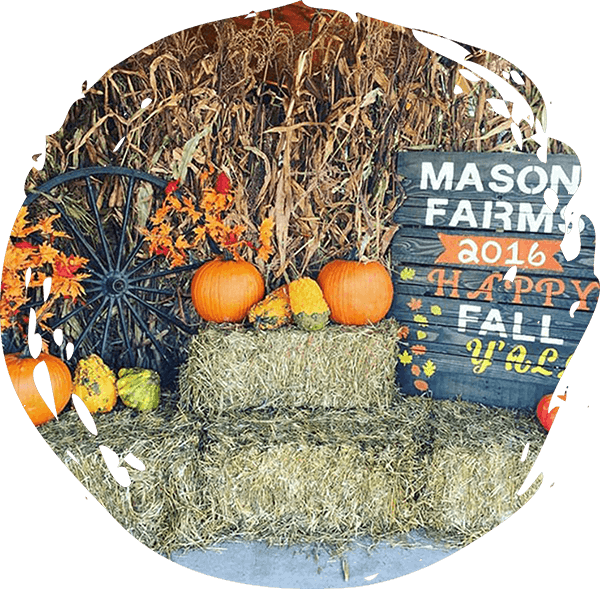 Our Favorite Part of Fall Has Got to Be Pumpkintown, USA
We transform our nursery into a fun fall destination for the whole family. We have a petting zoo, a cornstalk maze, bouncy houses and slides, and a concession stand. Pumpkintown has free admission for both adults and children. You can purchase individual ride tickets for $1.75 each or you can buy a ride-a-rama for $16.00. Our ride-a-rama lets your child bounce and slide as much as they want all day! If you plan on coming multiple times through the season, you may want to purchase a season pass for your child. They are $40.00 each and you can come as many times as you want! We also have Pumpkintown Jr. available from 9 AM to 1 PM Monday through Friday (except for holidays and non-school days) for a discounted rate of $10.00 for a ride-a-rama (our haunted house is not open during Pumpkintown Jr.). Pumpkintown is a great place for your child to spend their birthday with friends. We have a variety of birthday packages available to fit your needs. We also do school tours, which are always a fun way for your class to spend part of their day enjoying the fall season.
Pumpkintown Is the Perfect Place to Host Your Child's Birthday Party This Fall!
Birthday parties at Pumpkintown allow your kids to jump, slide, and play all they want! Birthday parties must have a minimum of 8 children and two adult chaperones. There is no charge for adult chaperones. All birthday parties will have a reserved area for three hours. You may bring outside food, drinks, and desserts to your birthday party as well, or choose one of our packages that includes food and drinks. You can email us at masonfarms@masonfarms.com to schedule your birthday party with our event coordinator!
Birthday Party Packages
All birthday parties include a reserved area for three hours. All birthday parties must have a minimum of 8 children and 2 adult chaperones. There is no charge for adults unless they would like to purchase anything a' la cart from our concession stand. In the event of inclement weather, we ask that you please choose an alternate rain date.
The Basic Birthday Party: The cost for this package is $18.00/child. It includes a small drink and a ride-a-rama band per child.
Birthday Bash Party: The cost for this package is $20.00/per child. It includes a small drink, a snack, and a ride-a-rama band per child.
The Ultimate Birthday Party: The cost for this package is $25.00/child. It includes a hot dog, small drink, bagged snack or apple, and a ride-a-rama band per child.
Drink choices are pop, cider, water, or slush puppies. Snack choices are a frosted cookie, small popcorn, bagged snacks, or an apple. PB&J may be substituted for the hot dog.
Pumpkintown School Field Trip
The Pumpkin Town School Tours are a field trip opportunity available during the month of October at our Peninsula Drive location. The tours are designed for students in grades Pre-K – 3. Tours are Monday through Friday between 9 AM and 2 PM. The Pumpkin Town Tours are $10.00 per student and include the following:
A Ride a Rama band for each student to participate in the following balloon rides: Pumpkin Jump, Pumpkin Slide, Seaweed Monster, Casper's Fun House, and Obstacle Course (2nd/3rd graders only). Haunted House is not open for school tours.
Animal food for your students to feed the petting zoo animals.
A pie pumpkin and a glass of cider for each student.
A reserved table for your students' belongings.
An area for your class to eat lunch if desired.
In the event of inclement weather, rides may be shut down for safety reasons.
Girl and Boy Scout to After School
We offer special pricing for girl and boy scouts Monday through Thursday from 4 pm to 8 pm only. Ride-a-Rama's are $10.00 per scout with proof of scouting affiliation. There is no charge for adult chaperones. You must show proof of affiliation at the concession stand (either the scouts in uniform or with a vest/sash or a scout/Leader ID card). Please call ahead at 814-774-8592 if you would like a table reserved for your outing.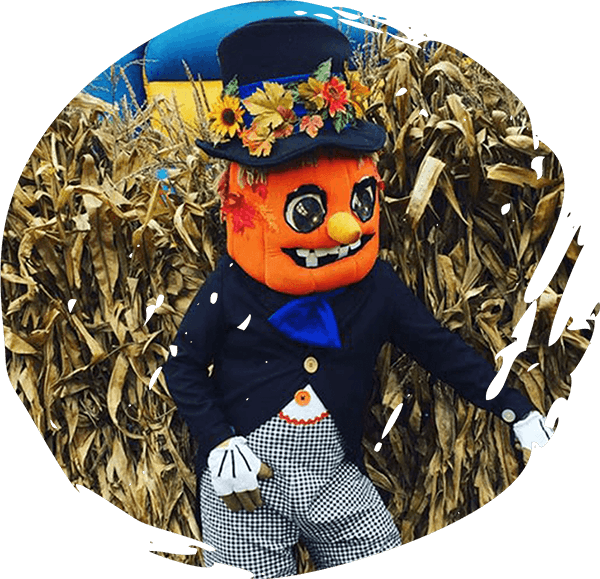 Scheduling Information Regarding Your Pumpkin Town School Tour
The tours will be available Monday – Friday from 9 AM – 2 PM.
Please call 814-774-8592 to schedule your tour.
Tours need to be scheduled to ensure we have enough staff available to help cater to your group's needs.
We will work with you to reschedule your tour in the event of rain, please choose an alternate date when scheduling.
There is a bagged lunch option available that includes a hot dog or PB&J, chips, an apple, and a drink for $4.75 per lunch.
There is also a snack option that includes a small popcorn and small drink for $2.25 per snack.
Additional Pie Pumpkins are available for $1.50 per pie pumpkin.
The concession stand will be open during your adventure for any other additional food purchases.
Your students may bring packed lunches instead of purchasing lunch.
We recommend that you bring chaperones to help you. There is no additional charge for adult chaperones.
We look forward to hearing from you soon. Please call 814-774-8592 to set up your adventure pass field trip. We are sure you'll have a "ghostly" good time!
Reach Out to the Experts at Mason Farms